The Wash'n Zip Pet Bed really is THE cleanest and most economical dog bed / pet bed, because it's completely washable!
---
WHAT PEOPLE ARE SAYING
"It seems that you have come up with the most useful dog bed ever."
Jan - West Lakes, South Australia
"I have 7 of these and they are awesome! Especially easy to clean!"
Louise - Bedford, TX
"It's already saved me $50+ with one washing! We cannot say enough positive things about this product."
Caron – Liverpool, NY
"A major invention for dog owners- I THANK YOU EVERY TIME I WASH IT!!!"
Eleanor
"Over the years, I have had dozens of dog beds and am now convinced that these are the best!"
Barbara – Illinois
"Everyone who wants the perfect dog bed should know about yours! Thanks for a super product."
Jeanne – Cranston, RI
"Seriously, best beds ever after being washed constantly!"
Amanda – Orlando, FL
"I've ordered 5 more because my resident dogs and foster dogs can't get enough of these beds (and I love them because they are so easy to clean!)"
Jane – Newcastle, CA
"You have the BEST beds ever. They are fantastic. I will be ordering 3 more in the next few days."
Susan – Collierville, TN
"As a dog trainer, I have seen a lot of pet beds, blankets and crate pads. None of them have ever been able to be cleaned as easily as this one. I love it!"
Tracy – Orlando, FL
---



---
Our bed is unique because...
…it's the only one-piece, fully and easily-launderable pet bed on the market!
Every other pet bed on the market is either non-washable, or only partially washable.  Some have removable cloth covers that can be laundered, but the inside quickly becomes dirty, smelly and unsanitary. Your pets get dirty and smelly, and they have accidents.  All of that dirt, odor, and urine will penetrate the outer covering of your pet's bed and soil the interior. The Wash'n Zip Pet Bed's unique one-piece design zips up to form a warm, fluffy, comfortable bed for your pet.  When it becomes dirty, it easily unzips and fits conveniently in your household washer and dryer.
---
As featured on Fox 35 News
Our company's story was recently featured on Orlando's Fox 35 news, in a 7-minute segment titled "Million Dollar Ideas."  Click on the video below to watch!
---
---
---
Wash 'n Zip Rescue Group of the Month
Our June Rescue Group of the Month was recommended by one of our awesome clients!  PAWS of Jacksonville, IL is a rescue group in the midwest that has helped saved the lives of almost 4000 needy animals since they began in 2011.  Not only do they save lives and provide great homes, but they also serve to educate the public on being responsible pet owners.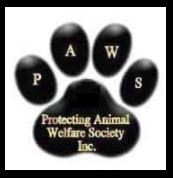 As our June Rescue Group of the Month, we will donate $5 to PAWS of Jacksonville, IL for each bed you purchase through our website during this month.  You can learn more about them HERE.
---
---
---
Patent Pending  US 2011-0290834